SIMON Cowell and his girlfriend Lauren Silverman appeared to be in great spirits as they made their way home for a BRIT awards after party.
The couple could be seen smiling in their taxi as they made their way home following the Sony Music BRITs after party hosted at aqua shard in London.
Simon certainly had reason to celebrate on the night after he saw his X Factor groups One Direction and Little Mix win big at the prestigious music ceremony.
Simon cut a dapper figure in a dark suit which he teamed with his trademark half-unbuttoned shirt while Lauren looked classy in a sleek black gown.She let the dress do the talking as she completed her look with minimal accessories.
The pair were spotted chatting to the likes of Noel Gallagher inside the venue before they eventually called it a night.
Debbie Harry Wins 'Style Icon' of The Year At The ELLE Style Awards 2017
Debbie then, Debbie now, Debbie forever
When you think Debbie Harry, you think style.
From wearing a pillowcase strapped with red tape, to a suit covered in wooden buttons, Harry is one of the best-dressed women of all time.
GETTY
When she emerged within the New York scene in the band Blondie, her late '70s and '80s styles mixed early 1960s girl group and 'mod' vibes, with a brash punk twist.
Debbie Harry in 1978
GETTY
Her rude girl attitude combined with unrelenting lyrics quickly elevated her above other rock and pop vocalists.
Blondie in 1979
GETTY
Inspiring generations of female and male vocalists after her, she is now viewed as one of the truest style icons, a perennial inspiration, influencing both the music and fashion industries.
Bianca Jagger, Andy Warhol & Debbie Harry in the 1980s
GETTY
Tonight, Vivienne Westwood, an icon of the highest order in her own right, presented Debbie Harry with her 'Style Icon' ELLE Style Award, at the 2017 event, sponsored by H&M.
So here's to our Sunday Girl, giving us iconic style every day of the week.
S
See all the photos from Warner Music and GQ's summer party 2017 at Nobu Hotel Shoreditch
GQ and Warner Music Group in partnership with Quintessentially held the annual summer party at Nobu Hotel Shoreditch this year. See all the stars in attendance in our photo gallery from last night.
GQ and Warner Music Group's summer party
When you get an invitation to party with GQ and Warner Music at the brand new Nobu hotel in Shoreditch, you don't turn it down. Tess Ward, Rafferty Law and Bella Howardclearly agreed as they joined GQ editor Dylan Jones and chairman and CEO of Warner Music UK Max Lousada to toast the summer with prosecco and Ciroc Vodka cocktails – the watermelon-infused Shoreditch Sunrise went down particularly well. Platters of sushi, chicken skewers and Nobu's signature black cod kept everyone going as Mary Charteris and Jaime Winstone spun the decks late into the night.
Tess Ward flaunts her legs in TINY navy mini-dress as she mixes with music crowd at Warner Music party… weeks after splitting from Harry Styles
She split from former One Direction star Harry Styles last month.
But Tess Ward was still turning heads with musicians as she mingled with the talent at the Warner Music Group and British GQ Summer Party at Nobu Hotel Shoreditch in London on Wednesday.
Looked toned and tanned, the food blogger, 27, flaunted her shapely legs in a tiny thigh-skimming navy minidress.
The Instagram sensation dressed down her look with a pair of eye-catching metallic trainers, with no need to add to her statuesque height.
Tess added a hint of sparkle to her appearance with huge costume jewellery necklace, complete with a raven centre piece jewel.
Leather-clad Laura Carmichael is a million miles away from her Downton Abbey alter-ego at Gregory Porter gig

She is best known as the refined Lady Edith on ITV's Downton Abbey.
But Laura Carmichael was a million miles away from her on-screen alter ego when she stepped out in London on Wednesday night.
The British actress, 30, looked every inch the modern girl-about-town as she hit the red carpet for the Gregory Porter Magic FM performance in aid of MacMillan Cancer Support.
Who's that girl? Laura Carmichael was a million miles away from her on-screen alter ego when she stepped out in London on Wednesday night
Clearly dressing for the occasion, the TV star was in rock-chick mode as she donned her street-smart leathers.
Sporting a pair of skinny jeans with a simple black blouse, the star was brimming with confidence at the House of St Barnabas venue.
Scraping her hair up into a messy bun, she added a flash of make-up for extra aesthetic impact.
The British actress, 30, looked every inch the modern girl-about-town as she hit the red carpet for the Gregory Porter Magic FM performance in aid of MacMillan Cancer Support.
Not that she was the only famous face there, of course.

Strictly Come Dancing love-birds Aljaz Skorjanec and Janette Manrara were also in attendance – and seemed to follow the same dress-code.
Too cute: Strictly Come Dancing love-birds Aljaz Skorjanec and Janette Manrara were also in attendance – and seemed to follow the same dress-code
Inseparable: Engaged to be married, the loved-up duo were inseparable as they made their entrance and posed for photographs
Engaged to be married, the loved-up duo were inseparable as they made their entrance and posed for photographs.
Janette and Aljaz have melted the hearts of viewers by defying the curse of Strictly, which has left at least ten celebrity romances (including the long-term relationships of newsreader Natasha Kaplinsky and rugby star Ben Cohen) in tatters since the show began 12 years ago.
Between series, the couple spend almost every hour together, working on their dances in the gym, performing on cruises, appearing at celebrity showcases and, today, teaching on a dance weekend.
Hit-maker: Soul star Gregory Porter took to the stage in aid of cancer charity MacMillan
Doing his thing: The star delivered a rousing set for the crowd in central London
White hot! TOWIE's Chloe Lewis flashes a peek of her toned stomach in sexy cut-out jumpsuit for star-studded Rimmel bash
Her former flame Jake Hall is rumoured to be engaged to his new girlfriend Misse Beqiri.
But Chloe Lewis couldn't seem to care less as she arrived in style at the star-studded Rimmel bash – which celebrated the brand's Live the London Look – in the British capital on Wednesday night.
The 25-year-old TOWIE star oozed sex appeal in a structured, skin-tight white dress which flashed a peek of her toned stomach with a racy cut-out.
Sexy: Chloe Lewis, 25, arrived in style at the star-studded Rimmel bash – which celebrated the brand's Live the London Look' – in London on Wednesday night
Chloe Lewis arrived in style to the Rimmel 'Live The London Look' bash in London this week.
The TOWIE star has long been our best-dressed of the ladies from the show and she proved our decision right once again here.
Stepping out in a white jumpsuit by C/MEO COLLECTIVE, Chloe looked stunning, with the cut out design flaunting her fabulous figure. Showing off your shoulders is a big deal right now in the fashion world, so the bandeau finish gets extra style points, as does the straight leg finish.
Chloe kept the look monochrome by accessorising with a black Yves Saint Laurent clutch bag and fluffy black sandals. She looked super elegant.
Sadly this jumpsuit is sold out in white, but click right to find it in other colourways.
If you want a white pick like Chloe, see our line up of alternative jumpsuits below. They can be made winter-appropriate by adding a snuggly fur coat and pointed courts (winter white trend alert), or save it for summer and add tan gladiator sandals.
Racy detailing: The TOWIE star oozed sex appeal in a structured, skin-tight white dress which flashed a peek of her toned stomach with a sexy cut-out
Fashionista: Chloe worked her sensational figure in the strapless number which bared her flawless decolletage and a snippet of her abs
Stunner: With her chestnut locks tied up into a high ponytail, Chloe showcased her pretty features as she posed up a storm for the photographers
The stunning beauty was also joined by her TOWIE co-stars Chloe Sims and Georgia Kousoulou.
The blonde beauties returned to the party scene after they were 'left badly shaken' by unprovoked attack in Spain last week.
According to reports in The Sun on Monday, the pair had been left shaken by a vicious late-night brawl in fast food restaurant McDonald's.
Meanwhile, Chloe happily ignored the whirlwind surrounding her ex beau, who she was with for seven years.  Last week Jake, who has been keeping fans up to date with his new relationship posted a cryptic tweet, telling his followers he was 'Popping questions.'
Pals: The stunning beauty was also joined by her TOWIE co-stars Chloe Sims and Georgia Kousoulou
Putting it behind them: The blonde beauties returned to the party scene after they were 'left badly shaken' by unprovoked attack in Spain last week
Glam: Georgia put on a leggy display in a short black satin hoodie
The handsome star and Misse, who recently returned from a romantic break to Paris, seem to be happier than ever, with Jake posting his cryptic tweet late on Thursday night.
While he simply wrote 'popping question' fans soon started to question if he was referring to a proposal, with Misse seen covering up her left hand and any sign of a new ring during a night out.
Earlier in the day Jake shared a loved-up Instagram of the couple hugging alongside the gushing caption: 'Seriously this girl makes me happy every day thank you @missebeqiri.'
Loved-up: While Jake has been hinting that he may have plans to wed the Real Housewives Of Cheshire star, Chloe has remained stoic and silent about her love life since last year's split.

Professor Green leaves Sony party with BBC 1Xtra radio presenter Yasmin Evans as he explains why he'll maintain a 'dignified silence' on Millie Mackintosh split
He's been a confirmed singleton again since his split with Millie Mackintosh in February.
And it seems that Professor Green is adapting to life after marriage quite well, as the rapper left the Sony Music party on Wednesday evening in the company of BBC 1Xtra's Yasmin Evans.
The 32-year-old rapper, who has been at pains to maintain a 'dignified silence' since his split, and his pretty companion had spent the evening at Sexy Fish in London at the label's annual party.
Sharp dressed dude: Craig looked suitably stylish in a suede jacket and all-black ensemble.
Pro pals: Stephen and Craigh were all smiles as they chatted at the party.
Also in attendance was Craig David, who was providing the music for the bash, as was Katie Waissel and Rebecca Fergusson.
A stand-out outfit: Laura Mvula made a head-turning display in a camo jacket and sequined-embellished jeans
Have they still got the X Factor? X Factor's Katie Waissel and Rebecca Fergusson were also at the event
Fun for all the family: Barry was joined by (L-R): Therese, Ashley, Lucas, Linda and Alexandra at the swanky bash.
Bee Gees' Barry Gibb says Brexit 'will inspire artists to write great songs'
Barry Gibb says the turmoil over Brexit will inspire a new generation of protest songs.
The Bee Gees singer, 69, is based in Miami but has spent the past few months in London recording a new album.
Speaking at Sony Music's summer party at Sexy Fish in Mayfair, he told the Standard: "It's a pretty crazy time to be over here. US politics is going mad but our politics is too.
"But it's a great time for music. These things give artists something to write about."
The best songs are written when you're facing the wind. And boy, are we against the wind right now."
Other guests at the party included Laura Mvula, Professor Green and actress Rebecca Ferguson.
Gibb's comments come weeks after he made a surprise appearance at Glastonbury Festival to perform alongside Coldplay.
Frontman Chris Martin held a "referendum" to find out if festival goers wanted to see the musician perform.
"Now we're having a Glastonbury referendum," Martin said.
"Should Barry Gibb stay or go?"
Gibb stayed and performed his band's famous hit Stayin' Alive.
World Premiere of Star Trek: Beyond in London
They star in a rebooted film franchise with an incredibly passionate cult following but Star Trek Beyond actors Chris Pine, Zachary Quinton and Simon Pegg certainly didn't look to be feeling the weight of expectation when they arrived for the highly-anticipated film's European premiere in London, on Tuesday.
Lead protagonist Chris, 35, who stars as Captain Kirk, looked typically handsome in a dark suit with a buttoned down white shirt and an eye-catching blue pocket square.
Chris sported rugged facial hair for his walk down the white runway, with his well-coiffed locks slicked in a neat fashion. He put on a close display with co-star John Cho, gripping him by the arms and leaning in for a kiss

Standing out from the crowd was Zachary, 39, who stars as fan favourite Spock, in a maroon suit with immaculate brown brogues and a tie and pocket square which perfectly complemented his jacket and trousers.
Meanwhile, Simon, 46, who stars as Montgomery 'Scotty' Scott and also co-wrote the film, wore a dark navy, two button, notch lapel suit, shirt, tie, and pocket square all by Ermenegildo Zegn.
Appearing as an alien commander called Krall in the third instalment of the rebooted series, Idris Elba was his usual cool self at the premiere in a military-style trench coat worn over a black polo shirt which he teamed with burgundy trousers and black boots.The Luther star was in high spirits, flashing a bright white smile and waving at the cameras
Alexa Chung looks leggy in quirky thigh-split dress for rare red carpet appearance with boyfriend Alexander Skarsgard at The Legend Of Tarzan premiere in London
They've kept a relatively low profile throughout the course of their relationship. But Alexa Chung was showing her support for boyfriend Alexander Skarsgard as she attended The Legend of Tarzan premiere in London on Tuesday night, despite walking the red carpet separately at the event.
The 32-year-old presenter and model looked incredible in a thigh-split gown with a funky, fashionable twist as she arrived at the Odeon Leicester Square to celebrate the release of Alexander's new blockbuster. Alexa pulled out all the stops for the film screening, looking stylish as ever in her cool and quirky dress.
The It girl stood out from the crowd in the black dress, featuring white collar and cuff detailing and matching embroidery on the front.She upped the sex appeal thanks to a teardrop shaped cut out at the neck and a seductive slit running up the left leg. Alexa set off her look with a chic pair of black suede lace up heels and a slick of deep red lipstick.
The brunette beauty wore her hair down in casual, messy waves and highlighted her killer cheekbones with peachy blusher. Alexa was later pictured heading to the afterparty which was held at the Aqua Nueva bar in London.
Alexander rocked the red carpet with his leading lady Margot Robbie, putting on a friendly display as they promoted the action adventure flick
Earlier in the day, Alexa took to Instagram to poke her boyfriend, who is playing Tarzan in the hotly anticipated film.
The star posed next to an advert for the movie, released on July 1, and snapped a grimacing selfie.
She captioned the shot: 'Human. Nature. #tarzan I spent 6 months eating high protein meals 5 times a day and hefty regular workouts to prepare for this Instagram. Unclear what the other guy did.She captioned the shot: 'Human. Nature. #tarzan I spent 6 months eating high protein meals 5 times a day and hefty regular workouts to prepare for this Instagram. Unclear what the other guy did.'
It was liked almost 11,000 times by Alexa's 2.3million followers, who were quick to congratulate the model on her humour.
The star was jokingly referencing the gruelling regime Alexander was forced to undergo to transform into the rippling Tarzan of the movie posters.
He was required to look exactly the same as the character in the original 1912 novel, which required months of training to get a naturally honed physique – rather than a gym toned body.
The Legend Of Tarzan is out July 1 2016 in the UK
Pure are celebrating 15 years in 2016 – read more about it here
Paloma Faith oozes country chic in ruffled blouse and black pussy bow ribbon at Sony's star-studded BRITs afterparty.
She's a Hackney-born beauty and one of the UK's most successful female artists. 
But on Wednesday evening English singer Paloma Faith seemed to draw her fashion inspiration more from the American West than Blighty as she rocked up to the BRIT Awards Sony Music After Party in London.
The Stone Cold Sober hitmaker worked a frilly blouse with high collar and stunning black pussy bow, and an ornately decorated black pencil skirt.
At times Paloma, 34, posed with her hand on her hip, giving major attitude while also showing off her gorgeous lines.
The sides and waist of her skirt featured metallic embellishments, which resembled the spurs found on cowboy boots, helping her shine while also adding texture and major wow factor as she mingled at the star-studded bash, held in association with FIJI Water.
The Voice mentor managed to give face in each and every shot – not only because of her natural presence, but also because of her stellar make-up game.
She used kohl eyeliner to great effect, giving herself a subtle smokey eye, while also wearing lashings of mascara to add drama and flair.
Paloma pulled her hair back into a ponytail and wrapped it up in a black bow, and swept fringe across her smooth forehead.
Ahead of the party she caught up with singer, songwriter and producer Labrinth, who turned up in a loud and quirky suit that featured a turquoise and cherry red floral motif.
The pair shared a series of laughs as he wrapped his gym-honed arms around her thin waist, and whispered into her ears.
Labrinth, who debuted on the UK Singles Chart in March 2010 with his collaboration with rapper Tinie Tempah, Pass Out, wore a silver stud in each ear.
Not to be out-blinged, Paloma had reflective silver elements on her shoes, and her ruffled blouse featured a series of oversized gold buttons, which were obscured by her pussy bow.
Perrie Edwards and Leigh-Anne Pinnock pick out black and white outfits while band mate Jade Thirlwall slipped into a camo-printed dress. Jesy Nelson was not pictured at the event.
Star of the evening Adele was escorted into the venue by a male assistant. The multi-award winner sparkled from head-to-toe in a statement sequin frock. She waved to fellow guests as she was helped into her getaway car following the celebratory evening.

Ellie Goulding exposed her cleavage and shapely legs in her plunging LBD.
Also present was music man Mark Ronson and his wife Josephine de la Baume, yhe pair couldn't resist having a cheeky smooch as they posed for snaps.
Comeback king Craig David took a break from his 7 Days schedule to attend.

One Direction star Louis Tomlinson also arrived in his smart blazer and skinny jeans combo.

Former X Factor star Rebecca Ferguson looked thrilled to be back doing what she does best and performing live with Paloma Faith.

Camilla Kerslake puts on a glamorous display as she leads the celebrity arrivals at Terry Wogan's Children In Need gala

She's been busy consoling her boyfriend Chris Robshaw following England's disappointing Rugby World Cup performance. But Camilla Kerslake enjoyed a solo outing without the sports star on Sunday afternoon, putting on a glamorous appearance at Terry Wogan's Gala Lunch for Children In Need, held at the Landmark Hotel in London.
The 27-year-old classical singer was looking lovely in a cream prom dress with a full A-line skirt and a V-neckline. The pretty number was embellished with metallic detailing around the waist and the bust, which matched her elegant silver jewellery. She was performing at the charity auction event alongside the likes of The Overtones and Billy Ocean. Camilla was joined by a host of stars at the luncheon, including style guru Gok Wan and presenter Anneka Rice.
Main man Terry flashed a big grin as he arrived at the venue ahead of his fundraising event, which aims to raise funds ahead of the big BBC Children in Need extravaganza.
Meanwhile, Camilla recently admitted she had been verbally abused by disgruntled rugby fans in the wake of the England team's loss.
In an interview with Hello! magazine, she said: 'When you've nursed your mum through breast cancer, then experience the terrifying trauma of a breast cancer scare yourself, you can get through anything, including people shouting outside your window at 4am. 'When you go out with a sportsman, it's part of the territory.' The songbird added: 'There have been times when I've felt a bit trapped in my own house.'
Christopher Kane Spring/Summer 2016 show
Is a fashion collection an appropriate medium for autobiography? It's an interesting and increasingly topical question, as fashion reaches an ever larger and more visually literate audience.
Christopher Kane has his answer. His collections have always told an aspect of his story, and the programme notes make no secret of this fact. "Crash and repair; that's what we kept saying to each other," they began this season
The crash was the death of his mother. In terms of the collection, it was the opening first few dresses with their spray-paint prints. It was also the coloured plastic cable tags worn as jewellery and trims – they're still working on turning these into a commercial product than can snap on and off (the ones the models wore were still a work in progress), but when they do, they'll be a cash-geyser.
Kane said they reminded him of when he'd seen people physically restrained – when he was younger he volunteered as an assistant in art therapy courses. "I saw some of the best art ever there," he says.
The collection had been partly inspired, he continued, by a woman he knew growing up, "an outsider, very unsophisticated in her tastes, but so cool looking".
This is contentious stuff – and yet the every proliferating media platforms available to designers means there's a place for fashion that reaches beyond function and aesthetics There is certainly a market for a psychological narrative.
What's most astonishing about Kane's talent is that he can take dystopian currents and turn them into optimistic clothing, blown-up bacterial blob prints, metamorphosing into lace effects being a case in point.
Acid bright lace, worked into pleated skirts and shirt dresses reoccurred as a print effect on snake printed vinyl (combined, for the full mind-bend, with real snake); multi-coloured ombré trainers and patchwork lace, plastic, embroideries and what looked like colourful gaffer tape trims, made for unforgettable, statement dresses and skirts, especially when edged with multi coloured turbo-swishy silk fringes, embroidered "matted" looking knitwear that exuded the security of much loved and much worn comfort clothing (worn over lace and vinyl)… these you would think, were happy clothes.
In fact, confessed Kane, the fringe in particular, was the result of a perverse wish to turn fringing, which he found fundamentally "shitty" into something he liked. Goal achieved.
Kane-ites will note that many of these themes – eye-punching shades of lace, plastics, pieced-together Chantilly – are part of his back catalogue. "I'm always revisiting," he said backstage. "Normally no one notices. But it's always interpreted and worked differently – that's the repair part of the equation".
Paloma Faith plays intimate Savoy Hotel gig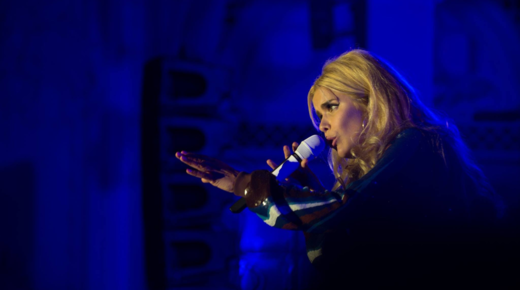 Paloma Faith performed a one-off intimate gig at The Savoy Hotel in London.
The Hackney-born songstress performed to a captivated crowd of fans at the luxurious venue. The exclusive gig falls ahead of the singers newly appointed role as a coach on The Voice UK.
Lucky fans had the chance to see her perform some classic covers including Etta James' At Last, Sinead O'Connor's Nothing Compares 2 U, and Ike and Tina Turner's River Deep Mountain High, as well as some of her own songs, such as Only Love Can Hurt Like This and Just Can't Rely on You, alongside a live band.
The gig is part of MasterCard's Priceless Surprises campaign, which has seen a number of iconic artists including Paloma Faith, Mary J Blige, Usher and Kaiser Chiefs surprise their biggest fans and bring them closer to their music. This year's campaign saw Paloma surprise Joe Meadows and Anna Williams, siblings from Liverpool, in January this year. They were invited to a secret bank vault hidden under the streets of London, believing they would be picking up a recording of a never-before-heard recording. Once there, Paloma appeared and performed, for the first time ever, a cover of Sinead O'Connor's Nothing Compares 2 U for her two fans acoustically, accompanied only by a handful of classical musicians.
Paloma commented: 'Performing tonight was an incredible experience ' from the intimate crowd to the beautiful venue. I love performing in my home city, and it's always great to be able to do something special for some of my biggest fans. It was great to be able to create a jazz club atmosphere and perform songs that I wouldn't normally, in relaxed surroundings.
Kaiser Chiefs play The Who at intimate gig
Kaiser Chiefs performed some of their biggest hits last night at an intimate gig in London at the stunning Grade I listed venue, One Mayfair.
The gig – part of MasterCard's Priceless Surprises campaign ' saw the band perform their festival set which included 'I Predict A Riot', 'Oh My God', and 'Ruby' to an audience of 400 fans.
The set also included a cover of 'Pinball Wizard' by The Who and speaking to Music-News.com prior to the gig frontman Ricky Wilson said 'we've played with The Who quite a lot over the years, which is a phrase you don't expect yourself to be saying, it's a really big deal, we have to try not to get used to things like that. It's a real privilege just to watch them let alone play with them.'
Bassist Simon Rix continued 'there was a bit of a link as we talked to Leslie Ash that day who goes out with a Leeds United footballer and was in Quadrophenia, that's a nice circular link, I like that.'
The Priceless Surprises campaign has seen a number of iconic artists including Kaiser Chiefs, Usher, Mary J. Blige, and Paloma Faith surprise their biggest fans and bring them closer to their music. Fans can find out how to get tickets to the last gig in the current series at PricelessSurprises.co.uk
Rita Ora shares a peek at her toned stomach and cleavage in cutaway dress as she slicks on vampy lipstick for music party
She'll be scouting for a new crop of musical talent in London on Wednesday.
But a recording artist first and a new X Factor judge second, Rita Ora demonstrated her commitment to her own label Sony on Tuesday night by showing up to their party.
Rita, show-stoppingly dressed in a cutaway gown, stopped by the VIP Summer Party in London before shooting off for an early night so she could be fresh for the next day's auditionees.

Out on the town: Rita Ora hit Sony music's VIP Summer Party in London on Tuesday night
Rita and Paloma were swept under Dynamo's spell as they rubbed shoulders with an elite crowd, and Rita simply could't believe her eyes at one time.
The beauty was involved in a classic card trick that saw her share her card with only Paloma before being totally blown away to see that Dynamo had guessed it.
Shocker: The musician was really shocked to see that her card had been sussed
Mary J Blige performs in London for her 'biggest fans'
Mary J. Blige performed in London for 500 of her "biggest fans" last night (24.06.15) as part of the MasterCard Priceless Surprises campaign.
Mary J. Blige performed an intimate gig in London last night (24.06.15) for her "biggest fans".
Ahead of her performance at the Glastonbury Festival, the 44-year-old singer wowed the crowd of just 500 people at One Marylebone. Her setlist included her most famous hits 'No More Drama' and 'Family Affair', as well as Disclosure's 'F For You', which she features on.
After the concert, Mary said: "Performing tonight was an incredible experience – from the intimate crowd to the beautiful venue. I love performing in London, and it was great to be able to do something special for some of my biggest fans, and give them a flavour of the other exciting things to come this summer."
A host of celebrity fans were in attendance including Leona Lewis and The Wanted's Nathan Sykes.
Mary's performance was part of the MasterCard Priceless Surprises campaign, which saw the 'Be Without You' hitmaker surprise her life-long fan Rana Otemro by flying into London from New York for a personal performance. Other artists in the campaign include Usher, Kaiser Chiefs and Paloma Faith.
Shaun Springer, Head of Brand, Sponsorship and Music, for MasterCard UK & Ireland said: "Working with Mary J. Blige, a global superstar, has been incredible. Her intimate gig is the second of four in our summer series, and has been a truly Priceless experience for our cardholders.
Thierry Henry is finally going to get the chance to see his big screen debut after attending the Entourage premiere in London's West End on Tuesday
The Arsenal legend made moves into acting last year as he played a small role in the film adaptation of the popular American TV series.
Henry enjoys a short exchange with character Ari Gold, who is played by Jeremy Piven, while the former footballer is out walking his dog.
The Arsenal legend had a small part in the film, which is an adaptation from the popular TV series

Henry was stood alongside the Entourage cast as they posed for photos just before the premiere
The 37-year-old spent time on the red carpet with Piven, as the duo posed for pictures before heading into the cinema.
Now a Sky Sports pundit, Henry is used to being in front of a camera but his cameo appearance in the movie is different to what he's usually used to.
But with the new Premier League season still eight weeks away, it might not be the last movie Henry could feature in.

David Haye was also a guest at the Entourage premiere at the Vue cinema in the West End
James Bond star Naomie Harris shows off a  vibrant multicoloured dress at Entourage London premiere
Her James Bond character may have retired from the field, but Naomie Harris still shoots from the hip when it comes to fashion.
The 38-year-old stunned in a multi-coloured dress with a plunging neckline as she attended the London premiere of Entourage on Tuesday night.
Naomie ensured that she turned heads in the vibrant frock, which featured several coloured panels and a dipped hem.

Pop of colour: Naomi Harris wore the most vibrant ensemble of the night as she rocked a multi-coloured dress
Naomie teamed her dress with a pair of silver heels, wearing earrings and a ring by jewellery brand Shaun Leane.
The James Bond actress carried a simple, black patent octagonal-shaped clutch bag.

Making magic happen: Jeremy Piven, Emmanuelle Chriqui and Thierry Henry watch magician Dynamo, left, perform at the after party
Stylish: Sabina Gadecki poses for photographers upon arrival at the after part
Reality love: Spencer Matthews and his girlfriend Lauren Hutton were ready to party the night away

Partying hard: Maddie Deihl; Doug Ellin and Adrian Grebnier were certainly having a good time
The film adaptation of Entourage centres around the happenings as Vincent (Grenier) directs and stars in his first film with a little financial help from agent-turned-studio head Ari Gold (Jeremy Piven).
Within the motion picture producer of the show Mark Wahlberg makes a cameo as well as Billy Bob Thornton, UFC queen Ronda Rousey, Calvin Harris, Emily Ratajkowski, and many more.
The arrival of a baby and an engagement are among other highlights in the film which is set for release in the UK on June 19.
Main man: Adrian cut smart figure in a blue suit which he teamed with stripey socks and black shoes
The film, written and directed by show creator Doug Ellin, is produced by Mark Wahlberg who came up with the idea for the series, inspired by his own experiences as a small town boy from Boston starting out as a movie star.
Grenier admitted that after years playing actor Vincent Chase, the lines between himself and the character had become blurred.
'I have two names now – you call me Vince and I'll answer', he said. 'But it's an honour to play a role that inspires so many people to take risks and strive for the best.'
All the cast admitted they would love to make a sequel to the movie, and Kevin Connolly insisted they were much more than friends.
He said: 'We're more than that, we're like stapled, we're together forever, we're brothers. We're brothers until the bitter end.'
Usher performs exclusive gig to 400 fans
The star performed some of his biggest hits at an intimate London gig. Global superstar Usher performed a one-off semi-acoustic gig at the renowned London music venue LSO St Luke's.
The lucky few had the chance to see him perform some of his biggest hits including You Make Me Wanna, OMG, Climax and Good Kisser alongside a live band.
This gig is part of MasterCard's Priceless Surprises campaign in which a number of iconic artists including Usher, Kaiser Chiefs, Paloma Faith and Mary J. Blige have surprised their biggest fans and brought them closer to their music. Usher surprised his lifelong fan Claire Spence when he disguised himself as a street-performer on Venice Beach and unveiled himself with a personal performance to her in front of a crowd of onlookers.
Usher commented: 'Performing tonight was a completely unique experience ' from the intimate crowd and acoustic set, to the incredible venue. It was great to be able to perform a completely different type of concert for my British fans.'
Fans can enter to win tickets for upcoming exclusive Priceless Gigs taking place this summer with Mary J. Blige, Paloma Fairth and Kaiser Chiefs
Usher 'would love to live in UK'
Global superstar Usher has revealed he would love to "do a stint" and live in the United Kingdom for a bit.
Usher performed in London as part of the Mastercard Priceless gig
Usher performed at a private performance for 400 fans as part of a campaign which has seen him surprising his fans around the globe.
He said: "I'd love to live in London, and I'd love my kids to explore the culture, the languages, everything. I've always wanted to do a stint in London."
The event, held at at the London Symphony Orchestra's St Luke's venue in London, saw him doing an intimate performance of some of his greatest hits like You Make Me Wanna, OMG, Climax and Good Kisser.
Bond girl Naomie Harris and singer Labrinth were among the celebrity guests watching the show.
Talking about the Priceless Surprises campaign, he said it has been a way to connect with his fans.
"I wanted to bring it back to being personal and give something back to my fans."
In February this year he surprised a fan in the US, by dressing up as a street performer and dancing for her before revealing his identity.
He joked he'd made around "25 dollars" before revealing his identity, and said the experience had been nice to "see it through different eyes".
Getting better with age! David Beckham is his dapper best as he smoulders in sexy shoot to celebrate 10 years of his fragrance
It's been a decade since he released his first ever fragrance Instinct, with David Beckham's scent still selling strong. Shifting an astonishing ten million bottles is something to celebrate, with the star attending  an exclusive event in a secret London location on Thursday. Posing with his best seller, David was looking suave in a dark suit as he launched the Instinct Gold Edition.
TK MAXX AND ELLE MAGAZINE HOST PARTY IN AID OF RED NOSE DAY

Credit: Tim Whitby / contributor
Dancing queen Rita Ora boogies the night away in a seriously racy mesh dress after quick wardrobe change at BRITs afterparty
Rita Ora dazzled in an elegant full-length sequined gown at the BRIT awards on Wednesday.
But later that night, the flirtatious 24-year-old decided to slip into a slightly racier number before making her way to Sony Music's after-party.
When she arrived at the lavish bash, which was hosted at London's SushiSamba restaurant, the star gave onlookers an eyeful of her toned legs and enviably slim waistline in her new ensemble.

Diva antics: Rita Ora insisted on a quick wardrobe change before making her way to the Sony Music after-party
on Wednesday following the BRIT Awards
The platinum blonde stepped out wearing a very revealing, head-turning black Julien Macdonald AW15 mesh dress featuring shimmering drapes.
She then teamed the piece with a pair of black studded ankle boots and a leather biker jacket.
Rita – who was nominated for Best Video Of The Year but sadly lost to One Direction – then completed her look with a dramatic flourish with emphasised eyebrows and smoky eyes, topping off her make-up with a nude lipstick.

Sexy: The star slipped into a racy mesh number giving onlookers an eyeful of her toned legs and enviably
slim wasitline

Accessory queen: She teamed the piece with a pair of black studded ankle boots and a leather biker jacket

Style queen: The singer completed her look with a dramatic flourish with emphasised eyebrows and
smoky eyes, topping off her make-up with a nude lipstick

Having a blast: The pretty blonde looked like she was having a great time as she partied the night away

Such a flirt: Rita was spotted blowing kisses at photographers


New BFFs? Despite the sea of famous faces at the party, it was French actress Josephine La Baume (L)
that Rita decided to spend most of her evening with

Check me out: Rita was spotted throwing a few very interesting shapes on the dancefloor



Busy bee: Earlier that day, Rita had presented the award for Best Male Solo Artist to Ed Sheran at the BRITs

Taken: While the star turned heads a the lavish bash, the 24-year-old is not a single lady as she is currently
dating Ricky Hill
She was joined by a host of other stars at the lavish after-party, including Ed Sheeran, Mark Ronson, Little Mix, Lisa Snowdon, Erin O'Connor, Paloma Faith and Rebecca Ferguson.
Melanie Chisholm, Sarah-Jane Crawford, Jimmy Car, Sinitta, Wiley, Zara Martin and Danielle Peazer were also spotted at the exclusive invite-only event.
X Factor winner and runners-up Ben Haenow, Fleur East and Andrea Faustini made appearances too.

Networking: Paloma Faith and Mark Ronson were spotted catchnig up wih Sony Chairman & CEO of Sony Music
UK Jason Iley

Gorgeous: Rebecca Ferguson and Paloma both looked stunning in lace gowns
However, despite the sea of famous faces at the party, it was French actress Josephine La Baume that Rita decided to spend most of her evening with.
The two were spotted having a great time as they danced away while making the most of the bespoke Iordanov Vodka cocktails which were being served on tap.
Before making her way to the after-party, Rita had attended the BRIT Awards to present the gong for Best Male Solo Artist to her good pal Ed Sheeran.
The stunner turned heads when she took to the stage in a plunging sequined gown which flashed a serious amount of cleavage. The elegant number, which had a sweeping train looked incredible, offset against her platinum blonde slicked back Pixie crop.
[…]

LBD: Melanie Chisholm kept things simple by opting for a little black dress

Pretty brunettes:  Sarah-Jane Crawford and Zara Martin both turned heads when they arrived for the party

Fashion fail: Sinitta wasn't looking her best in this bizarre two-piece

Top marks: Jo Whiley dazzled in her sparkling sequinned embellished gown

What happened there? Jimmy Carr's teeth looked glaringly white when he left the party

How does she do it? Lisa Snowdon looked in better shape then ever in her low-cut tight-fitting mini dress

Don't make it too late: Lisa's Capital Breakfast co-host was also spotted at the bash with a pal – but had an
exhausting 4am start the following morning

The X Factor: Ben Haenow and Andrea Faustini both looked dapper in their suits

Hipster: Fleur East certainly got herself noticed in this bright ensemble
Celebs wore lovely outfits at the BRIT Awards after-parties, too

RITA ORA
Orlando Bloom was loving Rita Ora's shimmery, plunging jumpsuit, but that didn't stop her from changing into this fringed and fabulous dress.

LEIGH-ANNE PINNOCK, PERRIE EDWARDS AND JADE THIRLWALL
The Little Mix ladies ditched cheesy girl band coordination for these hot picks, which lend a perfect display of their own individual style.

PALOMA FAITH
BRIT award winner, Paloma, slipped out of her gown and into a short lace frock. We love the detail of the white collar and cuffs that match her party heels.

JO WHILEY
Jo swapped her one-shouldered navy gown for something with sparkles GALORE.
Move over Downton, there's a new period drama in town! Julie Walters joins co-stars at launch of new C4 show Indian Summers
After five years on television, it looks like Downton Abbey may have a new contender for the nation's favourite period drama.
With new Channel 4 series Indian Summers set to begin next month, it looks like ITV hit Downton may have a rival for viewers' affections.
Ahead of the series' debut episode, Julie Walters joined her co-stars for the launch at the Arts Club in Mayfair on Tuesday night.

Here's to another hit? Julie Walters attended the launch of her new TV series Indian Summers at the Arts Club in Mayfair on Tuesday night

Julie, 64, went for the smart casual look in a pair of jeans and black and blue blazer as she celebrated her latest acting role.
Joining the national treasure at the Arts Club were her co-stars Sanjeev Bhaskar, Nikesh Patel, Aysha Kala, Olivia Grant and Henry Lloyd-Hughes.
With a £14million budget, Indian Summers is the most expensive drama ever commissioned by Channel 4 and was filmed on location in Penang, Malaysia.

Red alert: Olivia Grant plays the glamorous American heiress Madeleine Mathers

Move over Downton! Julie and Olivia joined their co-stars (L-R) Nikesh Patel, Aysha Kala and Henry Lloyd-Hughes
It tells the story of a groups of Brits living alongside Indians in 1930s Simla, the summer retreat in the Himalayans for the British elite, 15 years before India gained independence from the Empire.
Julie plays Cynthia Coffin, the widowed owner of the Royal Club, the hub for gossip and entertainment among the Brits.
Lloyd-Hughes, who plays the bully Mark Donovan in The Inbetweeners, plays Ralph Whelan, chief aide to the viceroy, while Goodness Gracious Me star Bhaskar is an 'untouchable' caste politician.

Date night: Star of the series Sanjeev Bhaskar attended with his wife Meera Syal

The next Michelle Dockery and Dan Stevens? Kala (left) and Inbetweeners star Lloyd-Hughes
The show has been tipped to make household names of its young cast, such as Grant (American heiress Madeleine Mathers), Patel (junior clark Aafrin) and Kala (Aafrin's sister Sooni).
In an interview with the Mail On Sunday's Event magazine, Julie gave a small insight into her character: 'Cynthia is from the East End of London. What would she have had if she'd stayed there?
'She can feel Britain's power declining, but she and the other British characters have a huge amount to lose.
'For her, the idea of independence is really frightening.'
Indian Summers starts on Channel 4 in February.
Channel 4 thinks long and hard about launch venue for Cucumber
Channel 4 is launching its new drama series Cucumber at the Gherkin in London. 

Channel 4 has alighted on the perfect venue to launch Cucumber, former Doctor Who writer Russell T Davies' candid new drama series which looks at gay life across different generations. The show, which comes with a sister E4 series Banana, (the titles are inspired by a scientific study on the erection), will receive its debut screening at London's most phallic building, the Gherkin. Whether Channel 4's drama department succeeds in its request to cover the Gherkin with a sheath for the launch is a matter for the capable hands of London mayor Boris Johnson.
Benedict Cumberbatch cuts a dashing figure at The Hobbit premiere in London
The Imitation Game star looked sophisticated in a black tuxedo as he attended the star-studded premiere in London on Monday.
In the highly anticipated movie the 38-year-old voices the terrifying Dragon, Smaug.
Posing with lucky fans, the actor turned heads in his monochrome ensemble as he made his way down the red carpet, which had been turned green for the occasion.
When asked how he prepared to to get in to the mindset of a dragon, Cumberbatch praised the "brilliant" and "fantastic" work of the film's director, Peter Jackson.
He told Express.co.uk: "Nothing can ever prepare you or inspire you for the mindset of playing a dragon but Peter Jackson is a fantastic director and was brilliant with the unusual characterisation for this film.
"It wasn't a walk in the park but it was a great film to make. The film has the most extraordinary technology. I just had to imagine everything I was playing."
Fellow Sherlock star Martin Freeman also attended the glamourous event.
The 43-year old, who plays lead character Bilbo Baggins, looked dashing in a navy overcoat under which he wore light grey trousers and a waistcoat finishing his look with a blue and white polka dot tie and a spotted red pocket square.
The star voices a dragon named Smaug in the movie
Martin Freeman plays Bilbo Baggins in the movie
Luke Evans posed for the cameras in a grey three piece suit
Orlando Bloom, who has starred in Peter Jackson's JRR Tolkien adaptions for 14 years, looked dapper in a bow tie.
The actor, who was sporting long dishevled hair, was spotted sharing a kiss with his co-star Sir Ian McKellen as they greeted each other outside the cinema on Leicester Square.
McKellen, who plays Gandalf in the series, kept warm on the chilly London night in a flamboyant printed scarf and long jacquard coat.
Welsh actor Luke Evans was also present on the red carpet.
Wearing a grey three-piece suit Evans, who plays Bard and Girion, Lord of the Dale in all three of the Hobbit movies,  talked about why he's so proud of the final film.
He told Express.co.uk: "It's the moment where we give you the last movie to complete the amazing trilogy. It's been a huge journey for all of us and its very very sad but wonderful what we've managed to do.
"For The Hobbit it's a closed set so no one else is allowed on set and you feel quite secluded and all I've wanted to do is tell people how much fun it was. The journey's over and this film is the final farewell."
Before saying he was going to miss "Ian McKellen doing the cancan on set with no pants on."
The Hobbit: The Battle of the Five Armies brings to an epic conclusion the adventures of Bilbo Baggins in Middle Earth.
The Dwarves of Erebor have reclaimed the wealth of their homeland, but now face the consequences of having unleashed dragon, Smaug, upon the defenceless men, women and children of Lake-town.
As he succumbs to dragon-sickness, Thorin Oakenshield sacrifices friendship and honour in his search for the legendary Arkenstone.
Unable to help Thorin see reason, Bilbo is driven to make a desperate and dangerous choice, not knowing that even greater perils lie ahead.
Ian McKellen wrapped up in a flamboyant scarf
Orlando Bloom looked dashing in a bow tie
Bilbo finds himself fighting for his life and the lives of his friends as five great armies go to war to save Middle Earth from ancient enemy the Dark Lord Sauron who sends forth legions of Orcs in a stealth attack upon the Lonely Mountain.
The film adaptation of JRR Tolkein's book The Hobbit was turned into three movies by director Peter Jackson.
This film follows The Hobbit: An Unexpected Journey and The Hobbit: The Desolation Of Smaug.
The star-studded event marked not only the end of The Hobbit Trilogy, but the culmination of the 14-year cinematic legacy of Peter Jackson's Middle-earth.
The film will be released in UK cinemas next month on December 12.
Dark and epic 'The Hobbit' finale premieres in London
English actor Martin Freeman, who plays main character Bilbo Baggins, poses for pictures upon arrival for the world premier of "The Hobbit: The Battle of the Five Armies" in London on December 1, 2014
London (AFP) – Rich with special effects, the final installment of director Peter Jackson's "The Hobbit" trilogy debuted in a much-anticipated premiere in London on Monday.
"The Hobbit: The Battle of the Five Armies" was filmed in 3D in a vivid 48 frames per second, and the final part of a trilogy reported to be the most expensive three-part series ever made.
The premiere was also lavish, with the landmark Leicester Square cinema designed to look like ruins for the night and filled with giant screens showing excerpts from the film.
Hundreds of fans gathered, many dressed as wizards and warriors, to ask for autographs and take photos with a star-studded cast that includes Orlando Bloom and Ian McKellan.
"Excited, very excited to share it with fans, it's a very good end to the story, I saw it last night and I'm very pleased with it," said Martin Freeman, who stars as Hobbit Bilbo Baggins.
Based J.R.R. Tolkien's 1937 book "The Hobbit", the trilogy tells the story of Baggin's journey with a group of dwarves to reclaim their Lonely Mountain homeland from Smaug the dragon, helped by the wizard Gandalf.
Director Jackson had originally planned to interpret the book as a two-part film, but changed his mind to make a trilogy like the hugely-successful "Lord of the Rings" series, released between 2001 and 2003.
In the film, Jackson replaces the original light and humorous tone with a darker feeling and sense of danger.
Working with Tolkien's notes for inspiration, the film series also adds in storylines and characters such as the woodland elf Tauriel, played by "Lost" star Evangeline Lilly, who did not appear in the original book.
"For Tolkien himself, the novel as published did not tell the whole story," said the production notes for the film, referring to the extensive world of Middle-earth created by Tolkien, complete with its own languages, peoples and history.
The film offers just under 2.5 hours of non-stop action, starting with the aerial bombardment of a village by the dragon Smaug.
The dragon is portrayed by British actor Benedict Cumberbatch, who leant his voice to the character as well as his movements and facial expressions, recorded through sensors.
The film is expected to take in a similar large haul to its predecessors "The Hobbit: An Unexpected Journey" (2012) and "The Hobbit: The Desolation of Smaug" (2013), thought to have made almost $2 billion between them.
Jackson, who has spent 16 years making six films based on the works of Tolkien, indicated he is ready for something new.
"The idea of doing a little drama with people in a house seems very attractive right now," Jackson said recently, describing his effort as an "endurance test".
The final installment will appear in cinemas around the world from December 10.
The Hobbit: The Battle of the Five Armies world premiere
Film stars gathered on a green carpet earlier for the world premiere of The Hobbit: The Battle of the Five Armies.
The premiere was streamed live to more than 160 countries from the Odeon cinema in Leicester Square, London, and some fans had camped on the streets for five days to get a glimpse of the cast.
Among the actors posing for pictures were Martin Freeman, Sir Ian McKellen, Orlando Bloom and Evangeline Lilly.
The film is the culmination of director Sir Peter Jackson's The Hobbit trilogy.
Sir Peter, 53, who finished editing the movie a week ago, said: "Saying goodbye to the cast was like this agonising long torture over 10 weeks.
"But the real emotions will hit me in days to come."
Orlando Bloom plays the role of an elf called Legolas
Evangeline Lilly plays the part of the elf Tauriel
The film stars Freeman as hobbit Bilbo Baggins alongside Sir Ian as Gandalf the Grey.
Both actors paid tribute to the films' strong fan base and Sir Peter told the crowds: "We hope you enjoy this film. We make it for you, for the fans and the people who enjoy these movies so I hope you like this one."
Freeman, 43, added: "The reason I'm not sad is because we are handing it over to the audience and sharing it with you. You're the best fans in the world – you're loyal and mad – so thank you so much."
His co-star Armitage, who plays dwarf king Thorin Oakenshield, agreed, and said: "It's the most amazing feeling to be here when you step out of the car and the crowd erupt because they love your character. Tonight is going to be a party, a big celebration."
Other stars who attended the film's premiere included actors Stephen Fry, James Nesbitt and Billy Boyd.
Laura Mvula: Where are my Mobos?
Laura Mvula on stage at her MasterCard Priceless Gig, held at LSO St Luke's with the Metropole Orkest
Laura Mvula has revealed she is still waiting to receive the two Mobo awards she won in 2013.
The 28-year-old singer-songwriter has been flooded with awards and nominations since the release of her debut album Sing To The Moon last year, and she revealed most of them are currently in a suitcase since she moved from her hometown of Birmingham to London recently.
Laura revealed: "I haven't received my Mobo little statue things, so I've got Mobos but I haven't received them."
[…]
Laura was speaking ahead of her MasterCard Priceless Gig at LSO St Luke's in London last night (Tuesday September 9) where she performed live with the Metropole Orkest.
She revealed: "It feels like an experiment, I've never done this sound before, so there's nerves and also excitement.
"Because there are so many musicians on stage that are amplified I'm going to use in-ears which is like headphones in my ears, which is what most pop stars use, but I'm not a real pop star so I don't really use that. But I'm going to use that just because the scale is so big.
"It's a new experience. I guess like anything that's new, like the first time you get on a bike, I have to feel my way around it, which is a good thing, it keeps you on your toes."
[…]
My days of wearing gold hot pants are over! Twiggy says women should be 'brave but not stupid' when it comes to style as she reveals her new M&S collection
Twiggy is back with a new Autumn/Winter collection for Marks and Spencer and the model-turned-fashion-designer says there something for everyone in the range.
Speaking to the MailOnline she said: 'I hate it when they put an age to clothes. Obviously I am not going to go around in gold hot pants any more but there are items in the new collection that women of all ages will love.
'I do my collections for all age groups, it's not just meant for someone my age. My daughter wears a lot of my jackets.'

Sneak peek: Twiggy launched the collection this week on the roof top of Ham Yard hotel
The 64-year-old said she took inspiration from her own wardrobe in creating the new range, while also including updated versions of items that have previously been big hits, such as the flattering pink lace dress she wore to her daughter's wedding, which will now be available in jade.
[…]
The new collection, which is exclusively on sale from www.marksandspencer.com/Twiggy from 10th September, includes faux fur coats, animal print jumpers and pretty embellished tops and dresses.
Accessories include wearable mid heel courts and classic brogues in vibrant colours, along with statement totes and stylish shoulder bags.
Bold colours of pink and jade feature throughout and Twiggy said many of the items can be dressed up or down depending on the occasion.
[…]
Proud: Twiggy reveals some of her favourite pieces at the launch – including the suede biker jacket she holds
Twiggy looks glowing as she poses for pictures of the collection and she said it's all thanks to her healthy lifestyle.
'I'm a firm believer that you are what you eat,' she said. 'I don't diet but I like to eat healthily. I don't think big diets work. Everyone I know who has been on a diet loses weight but then puts it straight back on again. I think it's better to eat what you like but not so often.
'I love chocolate but I'll just have it occasionally. If I said to myself "you can't have chocolate", I would think about it constantly!'
She also said she keeps in shape by doing pilates and tap dancing.
'It's a form of exercise that people don't think of but it's really good for you,' she said of tap dancing. 'It burn calories and is mathematical so use your brain and you look and feel like Fred Astaire!'
Daisy Marc Jacobs Tweet Shop opening party
At most parties it is considered the height of bad manners to spend the evening glued to your phone. At the launch of the Daisy Marc Jacobs's Tweet Shop, it was positively encouraged. Because no money was allowed to change hands in exchange for the goodies on offer. Lucy Watson,Laura Mvula and Kyla de la Grange were among the throng frantically posting tweets and Instagram posts with the Marc Jacobs hashtag to win manicures, purses and fragrance. There were macaroons branded with the hashtag, and a selfie booth from which to post pictures – the posing got increasingly outrageous as the night went on (and as the champagne glasses were drained). It got so hectic than guests practically overlooked the fact that Oliver Proudlock was in the house. Not really, he was mobbed.
Pharrell Williams, Brooklyn Bowl London, gig review: 'The best kind of party'
The 'Happy' hitmaker proved himself an unlikely feminist at this intimate gig
Pharrell Williams proved himself an unlikely feminist at tonight's 02 gig, a relatively intimate affair attended by 600 guests of MasterCard.
[…]
And he surpassed this objective, singing his extensive back catalogue from N.E.R.D's "She Likes To Move" to "Happy" and "Get Lucky". His excitement and appreciation for being in his mighty position is palatable and infectious – you'd have to have a broken leg not to want to dance to at least one of his tracks. At one point, he invited a young girl, aged six or under to join him on stage – she, looking unprepared for the task, was no match for enthusiasm and stood awkwardly as he danced around her.
Considering the overtly sexual nature of most of his hits, Pharrell is strangely enigmatic. His dance moves are never sleazy or predatory, steering adeptly past Robin Thicke territory, he just looks as of he's having a genuinely great time with his lithe backing dancers – although this, albeit infrequently, came at a price of strong vocals. He's smooth, but never forced. While he treads the cheesy line, he manages to swerve it.
Singer and producer Pharrell Williams in his trademark hat
Adding to his famed genre-blending medley of hits (and there are far more than you'd think), he also sang covers of Gwen Stefani's "Hollaback Girl", Nelly's "It's Getting Hot In Here" and Snoop Dogg/Lion's "Drop It Like It's Hot" – which, by that point, it really was.
It's impossible not to be slightly enchanted by Pharrell's charm; he's irresistibly uplifting, his music unthreateningly hedonistic. He makes creating pop look as easy as getting on the bus. To be in such a close setting with the producer and musician felt like the best kind of party, but whether not his voice will stand the test vast space of Hyde Park at Wireless festival this summer remains to be seen.
Katy Perry Holds Court in London
KATY'S CLASSROOM: Katy Perry was in studious form when she held a scent workshop to launch her latest fragrance with Coty — called Killer Queen's Royal Revolution — at London's Rosewood Hotel Friday. The singer piped up with plenty of her own questions for perfumer Pierre Negrin of Firmenich, who worked with Perry and Coty to create the fragrance.

Photo By Courtesy Photo
"I'm very curious — whenever I do something, I want to know about the whole process, how it happens — do you take those flowers [in the fragrance] and just steam the oil out? How does that happen, how do you get there?" said Perry, who was clad in a teal green Versace leather minidress, with green streaks dyed into her black bob.
During the workshop, Perry and Negrin helped the gathered editors re-create the fragrance from its various notes, which include pink freesia, jasmine and blackthorn, with Perry choosing the latter ingredient for its supposedly mystical properties. "They used to use it in the Middle Ages to cast spells with it, so I'm all about that," she said.
Afterward, Perry chatted about everything from her style maxims to beauty icons."I like Liz Taylor, and I love the spontaneous excitement ofDaphne Guinness and the punk rock…of Chloë Sevigny," she said. Fashionwise, Perry said she's currently "obsessed with Nineties Versace and Chanel" and likes to channel "a soft grunge look."
Discussing her collaboration with Coty, Perry noted that she takes a full-on approach to the fragrances. "[The fragrances] take up a lot of time, but they're a very pleasurable experience. They're very creative, it's not like I just get handed something. We all kind of dream this up together," she said.
Perry mused that nails is another beauty avenue she's considering exploring. "I've always wanted to venture into nails, but…it hasn't worked out just right just yet," she said. "But I love to show my personality off, whether it's in the lip color or nail bed. It's just like, God is in the details, so I like the little things to be detailed."
Godzilla stars hit the red carpet at Leicester Square premiere
Bryan Cranston lead the cast of the new Godzilla movie at the European premiere
Bryan Cranston, Elizabeth Olsen and Aaron Taylor-Johnson Pic Credit: Dave Benett
Godzilla stars Bryan Cranston, Aaron-Taylor Johnson and Elizabeth Olsen mingled with fans in Leicester Square at the film's European premiere last night.
Fans flocked to the centre of London for the star-studded premiere of the $160million remake of the classic 1954 Japanese monster movie.
Olsen is making her Hollywood blockbuster debut after winning plaudits in several indie movie including Martha, Marcy, May, Marlene.
She wore a sheer midnight blue gown by Elie Saab and was accompanied by her fiancé Boyd Holbrook.
Bryan Cranston, Elizabeth Olsen, Gareth Edwards and Aaron Taylor-Johnson Pic Credit: Dave Benett
Elizabeth Olsen wore a sheer midnight blue Elie Saab dress Pic Credit: Dave Benett
Aaron Taylor-Johnson was supported by his wife, the director, Sam Taylor-Wood Pic Credit: Dave Benett
The Breaking Bad star looked sharp in a checked navy suit Photo by Ian Gavan/Getty Images
BGT's Charlotte Jaconelli: I had to go solo but it's scary
Singer Charlotte Jaconelli has revealed she split from her Britain's Got Talent partner Jonathan Antoine due to creative differences — and told of her fear at going solo.
The pair thrilled TV audiences during their audition when host Simon Cowell asked him to dump her. He refused and the duo went on to finish second in 2012.
But following two albums the pair have decided to go their separate ways after being offered solo contracts by their record label Sony.
Jaconelli, 18, told the Standard: "We went to discuss our third album with Sony and sat there going through our repertoire, trying to agree on songs. At the end of the meeting we realised that we couldn't agree on anything.
"The label then said, 'Why not do two separate albums?' I thought, 'Well this puts a spanner in the works.'

Going solo: Charlotte Jaconelli (Picture: Nigel Howard)
"But we sat there and both realised we wanted to do different things.
"We went away and thought about it for a month. It was emotional.
"It's not like just because we don't make music together we will never see each other again. But it is sad because we've been through such a massive journey together and we've always had each other to rely on." Jaconelli was speaking as she performed her first solo show at Century Club in Soho last night and ahead of the new Britain's Got Talent series, which begins on Saturday night.
She said of her emotional audition with Antoine, 19: "We were in different places on that show. I was only 16 and Johnny was going through a difficult time. Neither of us could have got through the show without the other.
"Being on your own now is scary more than sad. It's almost like starting again."
Jaconelli's solo album is due for release in June.
Awkward! Amanda Holden and Terri Seymour arrive at I Can't Sing! party in the same outfit
IT'S EVERY woman's worst nightmare, but Amanda Holden and Terri Seymour seemed in great spirits despite arriving at the I Can't Sing! after party in the same outfit.

Amanda Holden and Terri Seymour accidentally arrived at the after party in the same outfit [SPLASH]
The pair – who were supporting their friend, and former flame, Simon Cowell at The X Factor musical premiere – didn't seem to mind that they turned up wearing very similar outfits, seeing the funny side as they partied the night away.
Dressed in tailored shorts, matching blazers and gold strappy heels, both ladies looked gorgeous as they made the most of their svelte figures in the all white ensembles.
The only difference between the two was Terri's black sling, which she wore over the top of her outfit, after breaking her arm recently.
Amanda looked stunning in her all-white short suit, showing off her stunning figure [SPLASH]


Simon's former fiance Terri Seymour, however, also had the same idea [SPLASH]
Taking to Twitter, the former fiancé of Simon wrote: "Absolutely darling! RT @Amanda_Holden: @TerriSeymour Great minds think alike," alongside a snap of the pair jokingly pointing at each other's outfits.
Before adding: "At least I had my sling on!"
Amanda had joined her Britain's got Talent colleagues Simon, Alesha Dixon and David Walliams earlier on in the night as they arrived at the London Palladium ahead of the press night of I Can't Sing!

The pair saw the funny side though and happily joked about the situation [TWITTER]
Simon looked as loved up as ever with girlfriend Lauren Silverman, who looked stunning in asimple LBD which showed off her already impressive post-baby figure.
The pair looked like they were having a great time as they enjoyed a rare night off from their parenting duties, having given birth to their first child in Feburary.
"Tonight was a special night. The I can't sing opening night was fantastic. Credit to the cast who were on top form. Check out the review," wrote the music mogul on Twitter following the night's celebrations.
Simon put on a loved-up display with Lauren Silverman as he arrived at the premiere [CORBIS]
Meet the cast – Alan Morrissey, co-writer Harry Hill, Nigel Harman, producer Simon Cowell, Cynthia Erivo, co-writer Steve Brown and director Sean Foley (Picture: Dave Benett)
Here comes the judges – Sinitta and Louis Walsh (Picture: Dave Benett)
Kylie Minogue treats fans to secret gig at Bloombury Ballroom

Kylie Minogue has treated fans to an intimate gig in London, performing to just 300 lucky fans.
Just days after announcing a new tour, the singer appeared at Bloomsbury Ballroom, Holborn, as part of an exclusive Priceless show with MasterCard.
"It's so nice to do an intimate performance with you all," said the Australian as she arrived on stage.
"My album came out this week. I'm nervous, excited and all kinds of emotions."
Wearing a white Grecian-style dress, the Australian star treated fans to a 45-minute-long set, performing never-before-heard tracks from her new album Kiss Me Once as well as songs from her acclaimed back catalogue including Can't Get You Out Of My Head, Slow and a "brand spanking new 2014 version of Love At First Sight".
The 45-year-old singer, who is also a judge on BBC singing show The Voice, took a 'selfie' with one fan and signed a setlist for another before she closed the show with new single Into The Blue.
Minogue later changed into a red and white PVC outfit with braces and a bowtie. She is set for an 11-date tour later this year, including the two dates at the O2 Arena on September 29 and 30.
Look inside the star-studded Brits after-parties…
If you  enjoyed the Brit Awards ceremony from the comfort of your own sofa and skipped the after-parties in f
avour of a decent night sleep – here's what you missed.
Some of the most famous faces in music kept the party going after the gong-fest in London's O2 Arena last night.
While some stars decided to call it a night (part-timers) others powered through at exclusive bashes hosted by major record labels.
A few of the One Direction lads turned up for the Sony Music get-together in association with Belvedere at the swanky Arts Clubat the swanky Arts Club, Katy Perry was on the decks with Ellie Goulding and Lorde at Universal's shin-dig before heading to Warner Music's event at the swanky Savoy.
Pharrell Williams took his enormous hat for another night out and spent some of his night chin-wagging with super-hot Nicole Scherzinger.
Cool kids only
BRITs gone WILD: Inside the star-studded after-parties where pop's finest let their hair down… before emerging a little bleary-eyed
…
Over at the Sony bash at the Dover Street Arts Club, in association with Belvedere Vodka, Nicole Scherzinger put on a very racy display in an eye-popping bra top that barely contained her cleavage as she joined the likes of Harry Styles, Rita Ora, Calvin Harris, Pharrell Williams and show host James Corden for a night of partying.
Nicole had stopped off for a quick change at her hotel as she prepared to make an entrance as the new Queen Bee of Sony Records, the label with which she recently finalised a multi-million pound deal.
The singer was soon seen locked deep in conversation with super-producer Pharrell, with perhaps a collaboration might be in the offing between the talented pair.
Up all night to get lucky: Pharrell Williams ensured he had his trusty hat with him as he headed into the music bash
All blush: Nicole sported a blush coloured ensemble that featured a tight pencil skirt and jacket

Date night: Rosie Huntington-Whiteley was joined by boyfriend Jason Statham at the party

Amorous display: Calvin Harris and Rita Ora looked rather cosy at the bash
Butt of the joke: One Direction's Harry Styles seemed to be in good spirits, in spite of being continually poked fun at throughout the ceremony by host James Corden, who also attended the Sony bash  
Sheer delight! Rosie Huntington-Whiteley flashes her lacy bra in a see-through ruffled blouse as she hosts dinner to celebrate her new sleepwear range
She was marking her latest foray into the world of design by hosting a lavish dinner to toast her brand new sleepwear collection.
And Rosie Huntington-Whiteley ensured all eyes were well and truly on her as she arrived at London's Dover Street Arts Club on Wednesday evening to celebrate her new range for Marks and Spencer.
The 26-year-old model flashed a glimpse of her delicate retro-inspired lace underwear as she commanded attention by posing in a sheer ruffle-collar blouse.
Dressed to impress: Rosie Huntington-Whiteley ensured all eyes were well and truly on her as she arrived at London's Dover Street Arts Club on Wednesday evening to host a dinner in celebration of her new sleepwear range for Marks and Spencer. Showcasing her toned and taut abs, the Transformers star teamed the Victorian-style garment with a pair of chic black cigarette pants, while adding height to her already statuesque frame with a pair of fierce stiletto heels.
The Devon-born beauty wore her honey blonde locks swept back into a stylish up-do, while showing off her striking features by opting for natural make-up, aside for a slick of dramatic winged eyeliner.
Posting a snap of an ornate table decoration on her Instagram page before the event kicked off, Rosie wrote: 'Beautiful table display at my dinner for all the best London fashion editors to celebrate my #rosieforautograph collection.'
Fearless fashionista; The 26-year-old model flashed a glimpse of her delicate retro-inspired lace underwear as she commanded attention by posing in a sheer ruffle-collar blouse
Working it! The Transformers star teamed the Victorian-style garment with a pair of chic black cigarette pants, while adding height to her already statuesque frame with a pair of fierce stiletto heels.
English rose: The Devon-born beauty wore her honey blonde locks swept back into a stylish up-do, while showing off her striking features by opting for natural make-up, aside for a slick of dramatic winged eyeliner
Attention to detail: Rosie posted a snap of an ornate table decoration on her Instagram page before the event kicked off
Kate Moss rocks a dazzling beaded cape as she joins 80's inspired Georgia May Jagger at Rimmel's 180 Years of Cool party
Kate Moss rocks a dazzling beaded cape as she joins 80s-inspired Georgia May Jagger at Rimmel's 180 Years Of Cool party
She's recently been joined by the likes of Georgia May Jagger and Rita Ora as brand ambassadors for Rimmel. But Kate Moss proved she is still well and truly the queen of cool as she joined the pair at the British cosmetics brand's 180th anniversary celebration at the London Film Museum on Thursday night.  The 39-year-old supermodel showcased her effortlessly edgy sartorial sense as she stepped out at the 180 Years Of Cool Party in a black velvet beaded cape.
The queens of cool: Rita Ora, Kate Moss and Georgia May Jagger strutted their stuff in fun 80s-inspired ensembles as they attended Rimmel's 180 Years Of Cool party at the London Film Museum on Thursday night Joined by her rocker husband Jamie Hince, the Croydon-born beauty teamed her funky accessory with a dazzling diamante-embellished vest and grungy grey skinny jeans.
Kate – the longstanding face of Rimmel – completed her look with a pair of black suede shoe boots, while wearing her honey blonde locks hanging loosely around her shoulders.
Not to let his model wife down in the style stakes, The Kills rocker Jamie looked every inch the cool customer in a fitted leather jacket, printed scarf and black skinny jeans.

From supermodel to superhero: The 39-year-old supermodel showcased her effortlessly edgy sartorial sense as she stepped out at th 180 Years Of Cool Party in a black velvet beaded cape
Checkmate! Rita rocked a tartan trouser suit for the anniversary celebration, while Georgia May chose a plunging sequin minidress
Following Kate's lead, Rita and Georgia May both commanded attention with their outrageous 80s-inspired ensembles as they toasted Rimmel's landmark occasion. The 22-year-old singer, who shot her first campaign for the brand this week, showcased her quirky sense of style in a bright red tartan double-breasted Moschino trouser suit. Channelling an androgynous look, the Hot Right Now hitmaker completed her party look with a crisp white shirt and a matching tartan bow-tie and towering lace-up boots.
Cool couple: Joined by her rocker husband Jamie Hince, the Croydon-born beauty teamed her funky accessory with a dazzling diamante-embellished vest and grungy grey skinny jeans
Rita, Kate & Georgia celebrate Rimmel's 180th birthday in style
The three current faces of the brand were at London's Film Museum to celebrate the brand's heritage with a 'through the ages' catwalk show and a performance from newest Rimmel girl Rita.
While Kate and Georgia opted for vintage-inspired black and silver party pieces, Rita took to the stage in a tartan ensemble, performing three songs (including a slowed-down cover of Outkast's Hey Ya!), and talking about her new collection.
"It's kind of inspired by Andy Warhol, it's quite pop art," she said. "I just wanted to make it all really bright, but the guys [at Rimmel] persuaded me to balance the bright out as well."
She also admitted that she'd been so excited about becoming a Rimmel girl that she'd been practicing the brand's most famous tag-line in the mirror. She treated the audience to a sneak peek, looking back over her shoulder to utter "get the London look".
And while the 'London look' has changed a bit over the last 180 years; Rimmel are still making the best mascaras in the business, and they sure know how to throw a great party.
Happy Birthday Rimmel!
Fleetwood Mac make a come back
On Monday 16th September  Stevie appeared at the Fleetwood Mac party at The Arts Club, London alongside Mick Fleetwood and former Eurythmics musician David Stewart.  She dressed in her signature ethereal style, wearing a floaty sheer black top with cut-out shoulders teamed with chain-trimmed boots, leggings and turquoise gemstone jewellery.  Miss Nicks joined Fleetwood Mac in 1974 – three years before the release of the band's best-selling album Rumours, which sold more than 40 million copies worldwide. 
The four-piece band, which comprises Miss Nicks, Fleetwood, Buckingham John McVie, will perform three gigs at the London O2 Arena from September 24. Stevie also confirmed that singer Christine McVie is also set to rejoin Fleetwood Mac at two unspecified shows on their forthcoming European tour.
Stars brave the rain for Superman red carpet
Stars Amy Adams and Henry Cavill got caught in a downpour on the red carpet at the London premiere

Is it a bird? Is it a plane? No. It's just the British weather.
Amy Adams, 38, and Henry Cavill, 30, got caught in a downpour tonight on the red carpet at the London premiere of Man of Steel.
Luckily, a minion was on hand to shield the actress, who plays Lois Lane. Brolly good show.
Meanwhile Brit Cavill admitted he was a blubbering wreck after seeing his Superman movie for the first time.
He revealed he cried after just thirty minutes due to the emotional content of the film.
"It is powerfully emotional in many, many places, like the first half hour, and I was in the movie, I know what the script was, the first half hour I almost cried three times.
"I was like 'man up, don't be seen crying at the cinema."




Smells like teen spirit! One Direction launch debut fragrance Our Moment… and Laura Whitmore is on hand to help
There's no escaping the fact that they're the most successful boyband in the world.
And with two chart-topping albums, a sell-out tour and even their own store dedicated to them, the One Direction boys clearly felt that it was the right time to launch their own signature fragrance.
Following in the steps of Jennifer Lopez, Britney Spears and Lady Gaga, the former X Factor stars unveiled Our Moment in London on Thursday, with the help of presenter-of-the-moment Laura Whitmore.

En route to world domination: The One Direction boys were interviewed by Laura Whitmore on Thursday as they launched their debut fragrance, Our Moment
With their management clearly looking to make the most out of their global superstar status, the boys carved out time in their Take Me Home tour schedule for the big launch.
Just days before jetting to Mexico as they kick of the international leg, the singers gathered at the Gherkin to officially debut the scent.
And the boys seemed just as enthusiastic as their fans as they grinned while clutching the pink, floral bottles and posing for the cameras.
They went on to describe the perfume as 'vibrant and playful fruity floral,' having put together pink grapefruit, wild berries, redcurrants, jasmine, freesia, musk, and patchouli.
Another pop perfume: The boys follow in the footsteps of Britney Spears and JLo as they launch their debut scent


The big unveiling: The British band unveiled the design to assembled press and fans, ahead of the US leg of their Take Me Home tour
'We love the idea behind a fragrance as you mix individual scents to create something so much better,' said Liam Payne.
'It's been a long and exciting process, and we're really proud to have made a One Direction fragrance,' added Harry Styles.
And it seems that Niall Horan has already been dishing out bottles to his friends and family, saying: 'I had a little tester bottle and my mam is a big fan, so that's all my Christmas presents cleared up'
'To be honest with you we've never had so many meetings to make something, this is like a complicated piece of art. A lot of love went into this,' chipped in Liam.
Friend of the band: Laura arrived for the launch in black skinny jeans and a cropped white T-shirt, before changing into a minidress
Raising her profile: The Irish presenter, who is good pals with Niall, was given the honour of helping with their London launch
Niall's best pal Laura was enlisted to interview the boys, arriving at the London landmark in black skinny jeans and a cropped T-shirt, later changing into a minidress.
With some luck fans looking on, the five boys hopped off their seats after the interview to reveal the design of the bottle.
And if there was going to be any doubt as to the fragrance's success, then 1D bosses just had to look at the Twitter reaction, with One Directioners going crazy for the new product.
Channel 4: how Grayson Perry helped spark an arts revival
Buoyed by a Bafta win for the artist's series on class, the broadcaster has rededicated it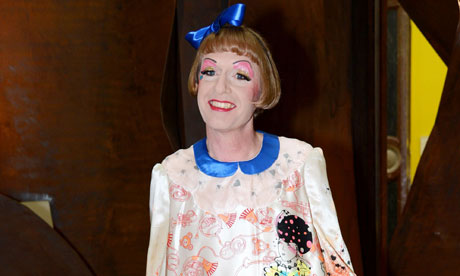 Grayson Perry: helped give Channel 4 arts a fresh face.
Photograph: Richard Young/Rex Features
It is instructive to see what a strong shot of Grayson Perry and winning a Bafta can do. Over the past three years Channel 4 had seemed to retreat nervously from its original strong commitment to a huge range of arts programmes.
This was established from the launch of Channel 4 in 1982 by Jeremy Isaacs and extended by gutsy commissioners including Jan Younghusband – remember the extraordinary opera, The Death of Klinghoffer, and the way she pioneered the staging of musicals starring amateurs coached by experts?
Instead, Channel 4 cut budgets as confidence in the ability of arts programmes to attract audiences shrank, and its role as a patron was largely reduced to making do with sporadic forays such as the micro-programme strand, Random Acts, or events such as overnight house music parties.
But on Thursday night Channel 4 arts commissioner Tabitha Jackson launched the inaugural annual 4Culture Arts event, built around a hilarious lecture by Perry, at the historic Home House club in Portland Square, and invited an audience of arts grandees, producers and opinion formers to witness what amounted to the broadcaster's rededication to the genre. Overseeing the party with a confident smile was chief executive David Abraham.
"It is important to just enjoy and celebrate contemporary culture. Channel 4 has three ambitions, to inspire, enable, and showcase contemporary creativity, use television as a medium, an art form in itself, and engage with audiences with lots of lovely programmes, not just as a school subject" said Jackson.
She highlighted the launch, on 22 July, of Mad 4 Music, a series of programmes which includes pianist James Rhodes taking his Steinway to psychiatric hospitals, with a number of people explaining the therapeutic effect of Chopin.
She also announced new arts commissions. The most eye catching, which seems to hark back to the Channel 4 of a decade ago, is Big Ballet, in which a group of "plus-size amateurs" learn to perform scenes from Swan Lake. They are mentored by Wayne Sleep, choreographer and ballet dancer, who overcame a view that he was too short to succeed as a soloist.
Perry, a sharp social observer, told the audience that people who say it's the taking part that matter were talking rubbish – it is winning a Bafta that matters. His three-part series, All in the Best Possible Taste, which contrasted and explored, with affection, the tastes of different classes, won widespread acclaim, launched him as a television personality and won the Bafta for best specialist factual programme.
A two-year deal with Channel 4 with his independent producer/director Neil Crombie has resulted in a new task, to explore identity, in Who Are You?, centred on 12 people at a point of change: each has 15 minutes. Chris Huhne is one of those featured and, according to Perry and Crombie, is going to be a hard nut to crack.
Perry concluded his performance by saying "I can't take myself too seriously." And as for his new diversion, he added: "Television isn't art, it is television. I hope I have widened the audience for art."
Purple Rain: Rita Ora arrives for her free gig at Cafe De Paris in London on Thursday night
On Thursday Rita arrived at the Cafe De Paris nightclub in London, wearing a shiny purple trenchcoat for the intimate gig.
She teamed her eye-catching jacket with a pair of lilac skinny jeans, pink T-shirt and a rather rude baseball cap, covered in the words 'f**k it'.

However, once inside she changed into a smart multi-coloured jacket as she rocked the Piccadilly nightclub.
The Hot Right Now singer performed an hour long set to a crowd of just 300 fans who had won tickets through the Mastercard Priceless competition.
She belted out some of her biggest hits, including R.I.P., Hot Right Now, and How We Do (Party).
The audience had won free tickets by signing up to the Mastercard Priceless competition.
Rita said: 'I really enjoyed working with MasterCard on the Priceless Remakes competition for this year's BRIT Awards and I wanted to keep that partnership going by doing this Priceless Gig. It was a brilliant night and I hope my Ritabots had as much fun as I did.'
In a recent interview with the Mail On Sunday's Event magazine, she claimed she was 'too busy for relationships'.

Greeting the fans: Rita meets a young fan as she makes her way into the club
Rude girl! Rita's hat was covered in the F-word
Rita Ora performs at MasterCard Wowing the crowd: Rita changed into a chic jacket as she performed to 300 fans in the club
Stars get lucky with first listen to Daft Punk's new album at Shard
Daft Punk proved their latest album is the most hyped in recent memory after a string of stars turned up to its launch despite the French dance duo being conspicuous by their absence.
Jude Law, Tinie Tempah, Laura Whitmore, Rita Ora and Calvin Harris were among those who had an exclusive first listen of Random Access Memories, which was played to guests at the top of the Shard as the sun set over London.
Daft Punk launched their long-awaited album Random Access Memories last night in London at a lavish party on the 68th floor of London's tallest building, The Shard.
The party came as Daft Punk — Thomas Bangalter and Guy-Manuel de Homem-Christo — revealed that they were puzzled as to why so many people were "freaking out" about their new record.
Homem-Christo said of the hype: "It still amazes me that everyone is so crazy about what we are doing. Maybe I am just dreaming but people seem to really freak out at what we are doing. I don't know why."
The album's first single, Get Lucky, went straight to No1 after a series of teasing videos was posted on YouTube.
The pair also put paid to rumours that they will be playing Glastonbury. Bangalter told Dazed and Confused: "Considering all the different people working with us on this record, we've no plan to go on tour right now."
Walk this way: Calvin Harris and Rita Ora were given a special police escort as they entered The Shard to attend the Daft Punk album playback on Monday night
Up the ante: Rita and Calvin made their way up The Shard where the party was in full swing
Familiar faces: Tinie Tempah and Peter Serfinowicz were also at the party
What's it all about: Hollywood superstar Jude Law arrived with a male friend at the event
S
hirt undone, looking paunchy, swigging beer in the back of his car… Simon Cowell at 3am on his way home from Brits after-party
He is the eternal bachelor and has never managed to make it down the aisle, despite being romantically attached to a plethora of beautiful women. But it would seem Simon Cowell was living up to his reputation as the ultimate bachelor by having a good time on Wednesday night. Cowell was letting his hair down at the Sony Brit Awards after-party and was surrounded by female friends as he relaxed.

King of the castle: The X Factor supremo was toasting a successful night at the Brits as he arrived at the Sony after party
Justin Timberlake & Jessica Biel: BRIT Awards After Party!
Justin Timberlake and Jessica Bielmake a low key exit after the Sony Music Brits Party following the 2013 BRIT Awards on Wednesday (February 20) at The Arts Club in London, England. The 32-year-old singer and Jessica, 30, were joined by Justin Bieber, Demi Lovato, Simon Cowell, and One Direction's Harry Styles, Niall Horan,Liam Payne, and Louis Tomlinson.
Soaring style: Rita Ora swaps her couture gown for a sequin dress with a hip height split for Brit Awards after-party
She arrived onto the red carpet in a controversial orange couture gown with a bizarre bustle detail but Rita Ora decided to slip into something a little more comfortable for the Brit Awards after-party. The 22-year-old singer flashed some leg in a black sequined dress that had a split that soared up to her hip. Rita's dress boasted a halter neckline with gold choker detail and a plunging back leaving more of her flesh on show.
Hip height: Rita Ora swapped her couture gown for a sequined black dress with a soaring split for the Sony Music post Brits party
Harry Styles had an older lady on his arm at Wednesday night's official Brit Awardsafter party – but it was only his mum.
The One Directioner took his mother Anne Cox along as his date to the Sony Brit Awards After Party held at London's Arts Club.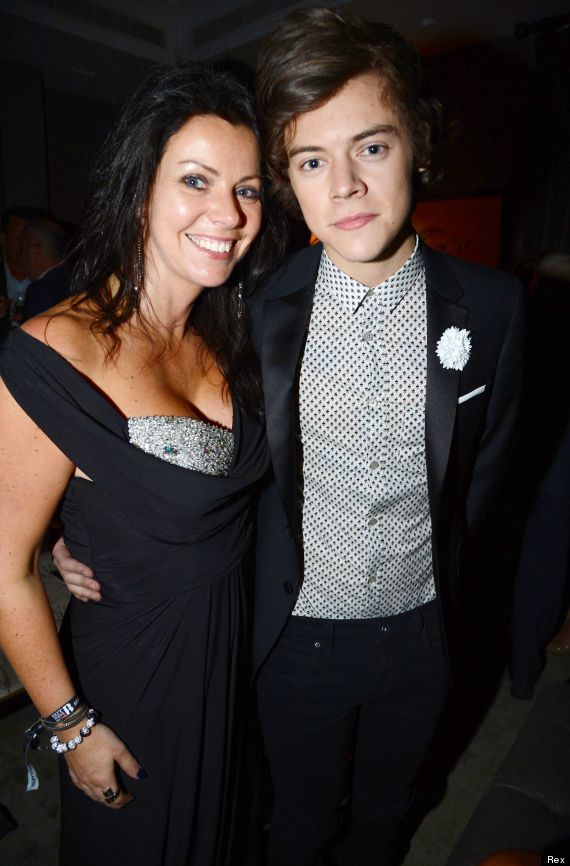 Harry Styles and his mum at the Sony Brit Awards After Party
Noel Gallagher: the hottest man at the Sony post-Brits party?
Of all the hot guys that attended the Sony Music post-Brits party (Harry Styles, Labrinth, Liam Payne and Louis Smith to name a few) we never expected Noel Gallagher to be the one who got all the attention from the ladies.
Who knew that the former Oasis star was such a ladies' man?
The Brits 2013: Stars party after The Brit Awards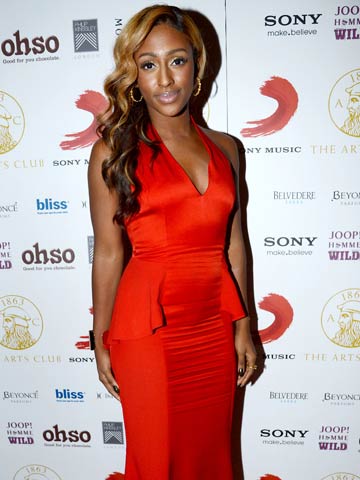 Wendy Rowe Party
Wendy Rowe deals with pretty ladies every day in her job as make-up artist extraordinaire, so it's no wonder a whole catwalk of them turned up to adorn the launch party for her website. Supermodel Anja Rubik co-hosted the party at the Ivy Club, while Gizzi Erskine, Jodie Whittaker and Olivia Palermo clinked cucumber and elderflower martinis and snacked on popcorn shrimp. After salted caramel profiteroles, the guests left, raving about the beautifying possibilities presented by the goodie bag (we hear it included Burberry lipstick…)
The most beauty-ful LFW party of the season
While show-hopping on Saturday night, we stopped off at the Ivy for the www.wendyrowe.com party in association with 25 Magazine, hosted by international make-up artist Wendy Rowe and supermodel Anja Rubik. Sipping on cucumber martinis, we chatted to Wendy about all things make-up, including the upcoming Burberry AW13 show, her only London collaboration.
Two days before the show, and Wendy still hadn't started on the look, but with a day of rehearsals and run-throughs ahead of her, she seemed very relaxed. While she couldn't tell us what to expect from this year's show (being that she didn't know herself, and all), she did tell us what it's like being involved in such a high-profile event. "It's like a military operation," she told us, "what with all the social media and digital elements. But I love it."
The likes of Arizona Muse, Olivia Palermo, Pixie Lott and Portia Freeman showed up to celebrate LFW with Wendy, and check out her beauty blog www.wendyrowe.com. Haven't logged on yet? Take a look for yourself; Wendy's one of our favourite make-up gurus in the biz.
Olivia Palermo at the WendyRowe.com London Fashion Week party
14th March 2013- The Patrick Hellmann store launch party, 50 St James Street, London
Jonathan 'JB' Gill and Chloe Tangney
Laura Hamilton
Leigh Francis
Kate Moss Is The Golden Girl At Her Book Launch Party – 50 St James, London, 15 November 2012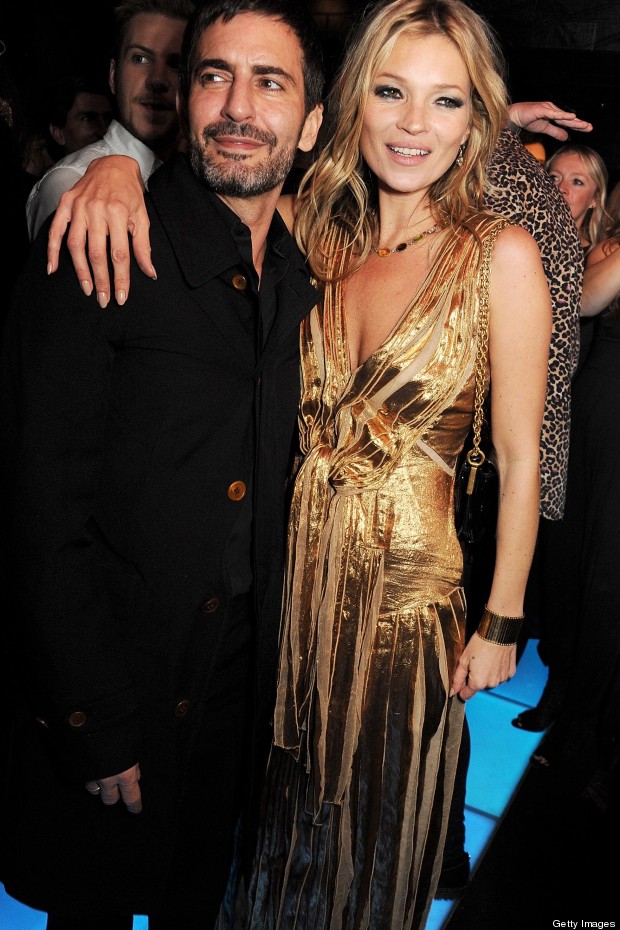 Marc Jocobs hosted a launch party for Kate: The Kate Moss Book and there was no mistaking who the centre of attention was. Moss arrived with her husband Jamie Hince in a floor-sweeping, metallic gown paired with her signature blonde locks and smoky eyes. A show-stopper? You bet. She was joined by the likes of Florence Welch, Stella McCartney and Pixie Geldof at the star-studded celebration.
Sherlock Holmes: A Game of Shadows' After Show Party at 50 St James, December 2011
Noomi Rapace, at the 'Sherlock Holmes: A Game of Shadows' After Party at 50 St James
Jude Law, at the 'Sherlock Holmes: A Game of Shadows' After Party at 50 St James
Kelly Reilly , at the 'Sherlock Holmes: A Game of Shadows' After Party at 50 St James
George Clooney's – 'Ides of March' Movie Premiere After Party at 50 St James, October 2011
Tennis star hunts Boris at 50 St James, November 2011
The silent auction in aid of the Legacy List hosted by London Mayor Boris Johnson at 50 St James
Hurts End of Tour Party at 50 St James, November 2011
It was synthpop and dapper suits at 50 St James for the Hurts end of tour party last Friday. Cara Delevingne, Tali Lennox, and Gemma Arterton were amongst the revellers throwing some shapes on the dance floor and enjoying the Ciroc cocktails (vodka, elderflower juice and champagne – insanely good). High-five to Kylie Minogue for her stellar performance at the show and her sleek Emporio Armani dress at the after party.
Theo Hutchcraft and Kylie Minogue
Clive Owen
Cara Delevingne
Tali Lennox